About Us
Kebab Choice is a Kebabs takeaway in Uxbridge. Why don't you try our Quarter Pounder Burger with Juicy Peeled Prawns or Diet Coca-Cola?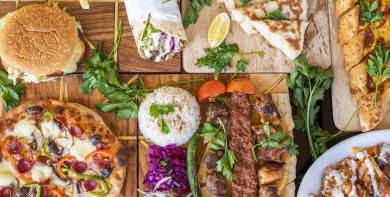 Reviews
243 reviews
LISA
"Everything good but chips could've been hotter"
22/05/2020
Billy
"Always good food good service"
21/05/2020
Denise
"Simply delicious"
15/05/2020
Beckie
"Bice and quick delivery, food was delicious and large portions. Certainly recommend the hallomi!"
01/05/2020
Menu
Lamb Donner Kebab
Served with your choice of salad & hot pitta bread
£6.45
Lamb Shish Kebab
Cubed lamb fillet marinated in our special sauce, charcoal grilled, served with your choice of salad & hot pitta bread
£7.45
Lamb Kofta Kebab
Minced lamb with chopped onions, green peppers & parsley, finely seasoned & pressed over the entire length of skewer, served with your choice of salad & hot pitta bread
£7.45
Mixed Shish Kebab
Pitta bread with lamb shish, chicken shish, kofta, rice, salad & sauce
£10.00
Mixed Kebab
Mixture of marinated fillet cubes of lamb, skewer of lamb kofta & cubes of chicken breast, charcoal grilled, lamb donner, served with your choice of salad & hot pitta bread
£13.00
Lamb Chops Kebab (5 Pieces)
Pitta bread, rice, salad & sauce
£12.00
Special Platter Kebab (Large)
Kofta, shish kebab lamb & chicken, donner chicken & lamb, pitta bread, rice, salad, pot of sarma, pot halloumi & bottle of Coca-Cola
£37.00
Kids Burger
With fries & drink
£5.00
Kids Fish Fingers
With fries & drink
£5.00
Kids Chicken Nuggets (7 Pieces)
With fries & drink
£5.00
Plain Chicken Burger
Just plain & simple chicken breast, served with fries
£5.70
Chicken Burger with Lettuce & Mayonnaise
Chicken breast, served with fries
£5.90
Chicken Burger with Mushrooms & Sliced Tomatoes
Chicken breast, served with fries
£6.20
Chicken Burger with Cheese
Chicken breast, served with fries
£5.80
Chicken Burger with Choice of Salad
Chicken breast, served with fries
£6.10
Chicken Burger with Juicy Peeled Prawns
Chicken breast, served with fries
£7.90
Chicken Burger Barbecue
Chicken breast with barbecue OR hot chilli sauce, served with fries
£5.80
Chicken Burger Hot Chilli Sauce
Chicken breast with barbecue OR hot chilli sauce, served with fries
£5.80
Taramasalata
Smoked cod roe pate served with hot pitta bread
£3.20
Hummus
Made with root chickpeas, sesame seeds & garlic served with hot pitta bread
£3.20
Sarma (7 Pieces)
Grape leaves with rice & mincemeat
£2.50
Halloumi Cheese
5 Pieces with pitta bread, salad & sauce
£4.50
Scampi & Chips (10 Pieces)
£6.45
Chicken Donner Kebab
Served with your choice of salad & hot pitta bread
£7.45
Chicken Shish Kebab
Served with your choice of salad & hot pitta bread
£7.45
Mixed Shish Lamb & Chicken Kebab
Served with your choice of salad & hot pitta bread
£7.45
Chicken Wings Kebab
Pitta bread, 9 pieces wings, rice, salad & sauce
£11.00
Quarter Pounder Plain Burger Regular
Plain simple, served with chips
£4.80
Quarter Pounder Plain Burger Double
Plain simple, served with chips
£5.80
Quarter Pounder Burger with Cheese & Onion Regular
Served with fries
£4.90
Quarter Pounder Burger with Cheese & Onion Double
Served with fries
£5.90
Quarter Pounder Burger with Cheese & Lettuce Regular
With burger sauce, served with fries
£5.50
Quarter Pounder Burger with Cheese & Lettuce Double
With burger sauce, served with fries
£6.50
Quarter Pounder Burger with Egg, Cheese & Onion Regular
Served with fries
£5.90
Quarter Pounder Burger with Egg, Cheese & Onion Double
Served with fries
£6.90
Quarter Pounder Burger with Mushrooms & Cheese Regular
With onion, served with fries
£5.90
Quarter Pounder Burger with Mushrooms & Cheese Double
With onion, served with fries
£6.90
Quarter Pounder Burger with Pineapple & Cheese Regular
Served with fries
£5.50
Quarter Pounder Burger with Pineapple & Cheese Double
Served with fries
£6.50
Quarter Pounder Burger with Choice of Salad Regular
With cheese, served with fries
£5.50
Quarter Pounder Burger with Choice of Salad Double
With cheese, served with fries
£6.50
Quarter Pounder Burger with Chilli Sauce Regular
Served with fries
£4.90
Quarter Pounder Burger with Chilli Sauce Double
Served with fries
£5.90
Quarter Pounder Burger with Hot Barbecue Regular
Served with fries
£4.90
Quarter Pounder Burger with Hot Barbecue Double
Served with fries
£5.90
Quarter Pounder Burger with Juicy Peeled Prawns Regular
With cocktail sauce & lettuce, served with fries
£6.50
Quarter Pounder Burger with Juicy Peeled Prawns Double
With cocktail sauce & lettuce, served with fries
£7.50
Vegetarian Burger Regular
With cheese, tomato, served with fries
£5.90
Vegetarian Burger Double
With cheese, tomato, served with fries
£6.90
Falafel - Double
Pitta bread with hummus & salad
£6.95
Contact Us
Find Us
232 High Street, Uxbridge, UB81LD
We deliver to
UB10, UB11, UB3, UB4, UB7, UB8, UB9